/ka schwä bəl/ verb. 1. To eat with gusto!
Kaschwabble Treats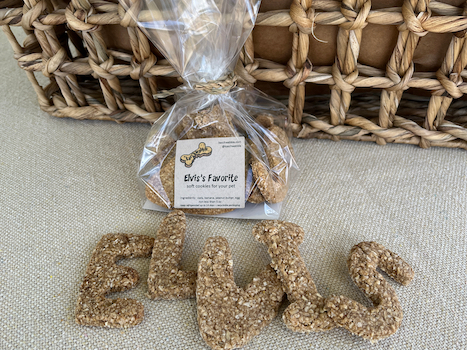 Elvis's Favorite
soft cookies for your pet
Ingredients: oats, banana, peanut butter, egg
Our dog Elvis was a career change Seeing Eye® dog. My daughter raised him for the Seeing Eye® puppy program; but unfortunately, he did not graduate. He stole our hearts from the minute he came into our home, so we adopted him. Like his namesake, he loved the combination of bananas and peanut butter! To be honest, there wasn't too much Elvis didn't like!
Elvis was a very special part of our family for 15 years!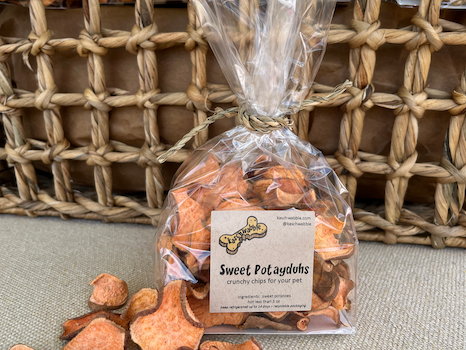 Sweet Potayduhs
crunchy chips for your pet
Ingredients: sweet potatoes
Dogs loooove these chips! They are a healthy and low calorie treat. Best of all, they sound so good when the dogs are crunching them!!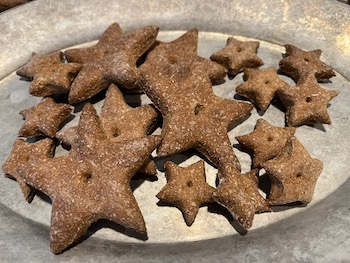 Star Struck
classic crunchy cookies for your pet
Ingredients: whole wheat flour, broth (veggie/chicken/beef), dry milk, egg
It's in the stars... a delicious treat for your pet, that is! The air is filled with the delicious smell of warm bread when these classic crunchy cookies are baking. It's divine! Each bag holds two sizes of stars, large and small. Our dogs don't care what size they get, as long as they are able to crunch on these bites of baked deliciousness!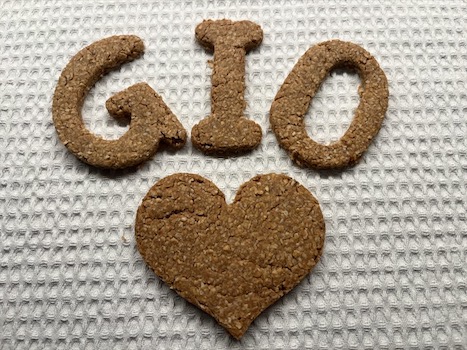 Spell It Out
custom treats for your special pup, event, or celebration
We create hand-made cookies that spell out your pet's name or favorite command! Get them to celebrate your pet's birthday, to give as a party favor or holiday gift, or to announce your new puppy! We also offer custom labels for a slight charge. Let's talk! The possibilities are endless!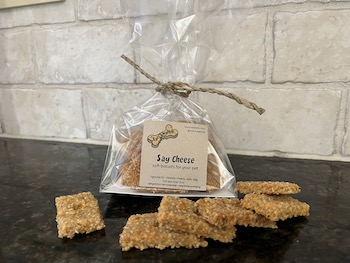 Say Cheese
soft biscuits for your pet
Ingredients: cheese, oats, egg
Put a smile on your pet's face with Say Cheese biscuits! Our dogs can't get enough of them. We tried making them with a few different cheeses, but our "test kitchen team" (aka – our two dogs and my daughter's three dogs) likes Sharp Cheddar the best!
Flats
slightly crunchy strips of yumminess for your pet
Sweet Potato Flats
Ingredients: sweet potato, whole wheat flour, egg, water
Pear & Ginger Flats
Ingredients: pear, ginger, whole wheat flour, egg, water
These flat, slightly crunchy treats will remind you of a ruler, but much tastier!! You can easily break off smaller pieces or give them whole. We offer two flavors: sweet potato and pear & ginger. They are packaged in about 5 inch pieces. Hope these will be the treats by which all others are "measured"!!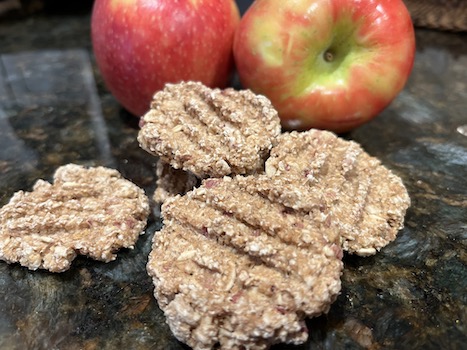 Apple Crunchies
extra crunchy cookies for your pet
Ingredients: oats, apples, cinnamon, water
This is the cousin to our Butternut Crunchies. Crisp, fresh apples are pureed to provide sweetness and tantalizing cinnamon provides the interest! The aroma that fills the air when these are baking is divine!!
---
Our treats are meant to be training incentives, rewards, and/or special snacks for pets. They are not meant to be meal replacements or supplements.